Certain rooms and climates experience more humidity than others. This is very important to consider when choosing window furnishings because if you use the wrong type, you may end up with warped, chipped or mouldy blinds or shutters – and no one wants that!
Not to worry, because many options can withstand moisture for these tricky-to-dress windows. For areas in your home such as bathrooms, kitchens, laundry rooms, and climates that experience humidity, you want to choose window furnishings made out of PVC, aluminium or a mix. These materials will tolerate moisture, ensuring that your beautiful blinds and shutters will not harvest mildew, warp into funky shapes, crack or chip.
PVC and Aluminium Shutters
PVC and aluminium shutters are considered the best choice for humid and wet areas for a couple of reasons. First and foremost, they are not made from organic materials, which means they are not as susceptible to the ravages of moisture. They shouldn't warp or suffer other damage due to constant exposure to humidity.
Secondly, these classic additions to your décor will go with a vast range of architectural styles, and their durable nature will ensure they last for years to come, no matter which rooms you put them in. They offer optimal lighting and privacy control as well. And because PVC and aluminium shutters mimic the soft lines of traditional timber shutters, you'll enjoy an aesthetically pleasing window treatment that stands the test of time, despite humid conditions.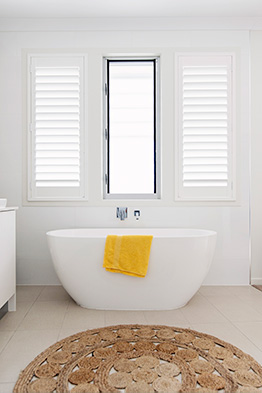 Highprofile Avenir aluminium shutters are the perfect choice for this bathroom.
Blinds
If shutters are out of budget, interior roller blinds are a good alternative for humid spaces. Most fabrics these days are UV treated, fade-resistant, led free, fire-retardent, to name a few features, but if you have an area that can get quite humid, you can opt for mould, mildew and bacteria resistant fabrics.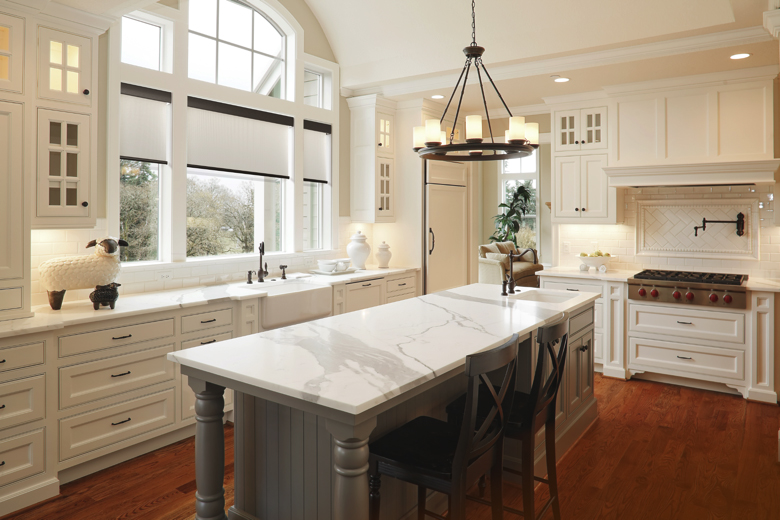 Colourvue Roller Blinds is all this kitchen needs to be stylish and protected from humidity and sun.
TWO Australia manufactures a range of window furnishings suitable for humid and wet areas of the home. Look no further than our range of PVC and aluminium shutters and our wide range of quality fabrics for roller blinds.
PVC shutters / Highprofile Poly
Aluminium interior shutters / Highpropfile Avenir
Aluminium exterior shutters / Weatherwell Standard, Fixed and Cyclone Rated
Colourvue Roller Blinds