Steven has been with TWO for almost two years operating the welding machine for the production of Zipscreens, Straight Drops, Wire Guides and Pivot Arms.
Tell us something interesting about yourself?
I enjoy going to the gym and watching sports (NBA, AFL and NFL). I played AFL for 10 years when I was younger.
What do you like to do in your spare time?
● Watch Netflix
● Play PS5 video games
● And play basketball with my mates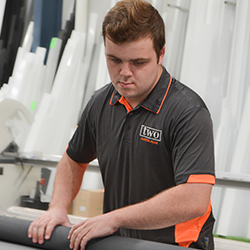 What do you enjoy most about your job/working at TWO?
The people and the fun atmosphere.
Have you travelled?
I have been to the USA twice and would love to go there again. While I was in the states I went to both of the Disney Parks, Hollywood, Vegas, New York City and both of the Universal Studios. I have also been on a cruise to the South Pacific Islands.
Do you have any personal goals within the next 5 years?
I would love to start my own business and be my own boss!
Which song best describes you?
Centuries by Fall Out Boy.