As the WA Transport Coordinator, Lee gets to meet and greet a lot of dealers who are happy to see their shutters arrive. He is in charge of unloading containers and ensuring dealer orders are delivered in a timely manner.
A little about Lee
Lee is married to Cath and has four children, five grandchildren and one great-grandchild.
He just turned 65 in August, was born in Wembley, London, England and now lives in Baldivis South of Perth in WA.
He spent 14 years in the British Forces and came to Australia in 88.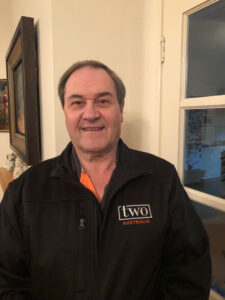 Tell us something interesting about yourself.
I have worked for Caterpillar Heavy Diesel Mech and became a tech rep.
I was the Senior Operator in a Fused Alumina plant for eight years, where I went to Japan to learn the fusion process and ran a team of seven on shift work.
I worked for SHELL Oil Company and became a Shore Officer responsible for 50 million dollar cargoes and all the planning and manning of operations. Eight trips to Cocos Island were fantastic.
I worked for Thales as a MU90 Torpedo Technician……can't say too much because of the Official Secrets Act 😉
I was employed up North, WA, on Gorgon Project and Rio Tinto sites at Tom Price and Paraburdoo.
I was involved in the Falklands Conflict against Argentina and spent five months on Mt Kent, surrounded by minefields.
Installation fitter of blinds and shutters until TWO took over and then I found myself doing deliveries in a casual role; luckily, the job fell in at the right time of my life.
What song would you say best sums you up?
"Always look on the bright side of life " by Monty Python.
How many languages do you speak?
I speak English and can get by in German. I did three years at school in Wilhelmshaven, Germany, and I remember watching the sea freeze in winter.
What motivates you to work hard?
My military background has taught me life lessons and motivates me always to work hard and get the job done.
What is your proudest accomplishment?
My proudest accomplishment was becoming a Shore Officer with SHELL Oil Australia.
What do you do in your spare time?
I spend my spare time gardening (not because I like it) and time with Grandees. I would like to tinker with cars, but I may have to wait until I retire.
Have you travelled?
I have lived in Europe and visited most European countries, including Lithuania. I lived in Cyprus and Singapore, worked in Hong Kong and Japan, and have travelled extensively on cruises, over 50 times! And hope to do more.