Bree joined our TWO NSW factory in September 2020. She is responsible for checking over and organising the order paperwork for the production teams, manage stock inventory and liaise with all parties involved in the creation of the products to make sure the end result matches what has been envisioned by the customers.
Born and bred in Newcastle Bree moved around a bit but always gravitated back home to be close to family.
Very artistic, she loves creating various forms of artwork from pencil sketches to digital art.
She owns an extremely energetic and fun-loving Blue Cattle named Millie. As well as a very sassy Eastern Water Dragon named Buddy.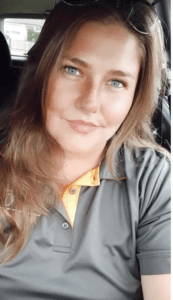 What do you like to do in your free time?
I love to play the non-stop games of fetch and running around with Millie but I most enjoy creating various special effects makeup designs. I make my own prosthetics to morph my face into different characters using liquid latex, fangs and contact lenses. I also make props and accessories to accompany a character's look such as horns for a demon or ears for a woodland elf. On the occasions I am not creating fantasy characters I love to spend time with my family, as family is very important to me.
How does a normal day at work look like?
No two days are ever the same. I work with wonderful people who make it feel as if we are family and not just colleagues. Together we put our absolute best into all we do when taking on the task of turning our customer's vision into reality. We take our roles very seriously but we do indulge in a bit of fun by having themed dress-up Fridays.
What is your favourite part about your job?
I have many favourite things about my job, but I must say I love having a job where I am continuously learning new things and playing a role in the organisation and production of orders no matter how big or small. I also have the great pleasure of being surrounded by wonderful people who make me smile and laugh every day.
Which are the highlights of working in a company like TWO?
100% the people I work with. Not just the people I see working beside me every day but also the people working in the different departments of the TWO Family. I will always be grateful for being welcomed into the TWO Family.