Andrea joined the TWO marketing department as the Marketing Coordinator 6 months ago. Her primary role is to execute TWO Australia's marketing plan and strategy and assist the CMO and Marketing Manager.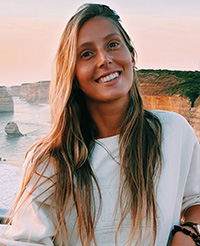 A little about Andrea
Born in beautiful Spain.
Fluent in Spanish and French.
Moved to Australia 2 years ago and now calls the Sunshine Coast home.
What do you enjoy doing outside of work?
I love nature and all kinds of outdoor activities. At the moment, surfing is at the top of my list. I'm very passionate about travelling. I've lived on four different continents and visited about 25 countries.
Can you tell us about your routine at work?
I can't say there is a routine, and I'm glad about it! Every day is different.
My daily duties include creating and managing marketing materials such as print and digital collateral, coordinating requirements with developers and printers, managing communication and promotional campaigns, including HTML newsletters, social media campaigns and print media campaigns… Pretty much all the communications that you receive from TWO, it's me ?✌?
What is your favourite part about your job?
If I had to choose only one thing, it would be 'design'.
At TWO, we have a strong focus on branding. We believe that the way our brand is perceived has a substantial impact on our business. There is a lot of design work involved in the branding strategy, and I really enjoy working on those projects.
What do you enjoy the most about working at TWO?
What I love about TWO as a company is that we are always one step ahead. We don't just focus on what needs to be done now; instead, we plan our strategies based on what we want to be in the future. Always looking forward, that is hard to find in this industry. It keeps my role diverse and exciting, which is why I love being part of the TWO marketing team.