Alison has been with TWO for four years working as the WA / NT Account Manager. She looks after all of the existing accounts and spends time developing new business. Her day-to-day involves visiting and calling her dealers and providing them with product and orders support.
Born in the North East of England, Ali emigrated to Australia when she was 14 and now lives in East Fremantle, WA. She still has retained a little of that North East English accent.
She owns a beautiful Labradoodle named Lola.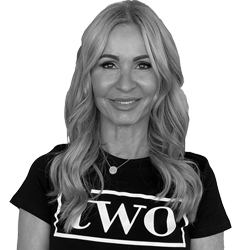 Tell us something interesting about yourself?
I've got three grown-up children who are 27, 27 and 25. Yes, I have twins! I like to dabble in a bit of cake decorating for family and friends. I baked my own wedding cake when I married a couple of years ago 🙂
What do you like to do in your spare time?
I'm a foody and like to go out for dinner with my husband. We also love to travel.
Cooking and spending time with my family.
Going to the gym and paddle boarding with my daughter are two of my favourite pass times.
What do you enjoy most about your job/working at TWO?
Every day is different and has new challenges. I'm always learning and I get to meet lots of great people.
How has the company changed since you started with TWO and what are you most excited about for the future?
The company has grown so much! TWO's image is modern and vibrant which I love. I'm looking forward to growing my territories and catching up with my eastern state colleagues now that WA's border is finally open.