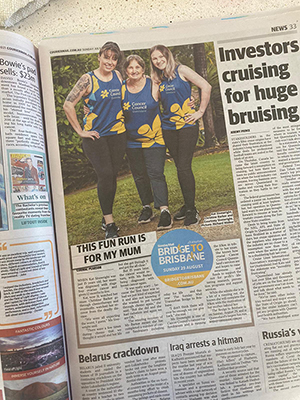 We want to make a shout-out to two special participants of this year's The Bridge to Brisbane Fun Run. Sisters Kat Sivewright, our National Production Manager and Courtney Sivewright, our Production Assistant, will be running for their Mum!
Both of them have gone through an incredibly tough journey supporting their Mum during her fight against cancer and her amazing recovery. Fortunately, they didn't have to do it alone; the Cancer Council Service was an incredible support during those hard times, and now it is time to give back.
Courtney will be participating in the 4.5 km race, and Kat will be running the 10 km journey on the 7 of November to raise awareness and funds for the Cancer Council Queensland. The funds will support the not-for-profit's life-saving research, prevention programs and support services.
To support Kat and Courtney, you can join the race in Brisbane or donate to their cause on the links below.
Best of luck Kat & Courtney!